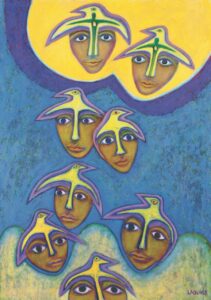 This concert celebrates the beauty and joy of the season in a concert of festive holiday cheer. The program includes art music, carols, and traditional holiday songs by well known composers, Ola Gjeilo, William Mathias, John Rutter, as well as beautiful music by a new generation of rising stars: Rebecca Dale, Andrej Makor, and Sarah Quartel.
Of special note is English composer Rebecca Dale's stunning setting of "In the Bleak Midwinter" for 16-voice choir a cappella; Slovakian composers Andrej Makor's haunting "O Emmanuel", and Stanley Hoffman's spirited Hannukah song, "Mi y'maleil." Traditional holiday favorites such as "Jingle Bells," "Wassail Carol," "O Holy Night," and Jodi French's setting of the original tune to "Auld Lang Syne" combine to create a joyful concert.
"The title, 'And the Stars Looked Down,' refers to always coming back to the hope at the heart of creativity and art," says Music Director, Dr. Paul French. In the preface to her lovely "Halcyon Days," Australian-American composer Melissa Dumphy writes that she had composed the piece "in hope that we can create our own Halcyon Days – a period of calm during winter storms – where we can reflect on what we have lost but rise up to face the new year with joy and grace."
"It is our hope that Repertory Singers' music brings you just that: beauty, hope and grace for the coming year," reflects Dr. Paul French.
Performances take place in the Southern Oregon University Music Recital Hall at 450 S. Mountain Avenue in Ashland. Order tickets here or by calling 541-552-0900.