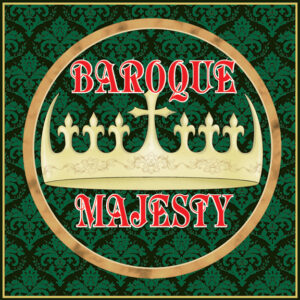 Baroque Majesty
Saturday, May 19, 2018 7:30 pm
Sunday, May 20, 2018 3:00 pm
In recent years, Repertory Singers has specialized in performing masterworks from the Baroque and Classical time periods. This year, we continue that tradition with a performance of Baroque masterworks by the two most important composers of the Baroque: G.F. Handel and J.S. Bach.
Handel is represented by two of his most popular compositions, the Coronation Anthems "The King Shall Rejoice" and "Zadok the Priest." Written in 1727 for the coronation of George II and Queen Caroline, Handel's Coronation Anthems have been performed at every British coronation since that time, and for good reason: they are the very quintessence of British pomp and majesty.
While Handel's Coronation Anthems are justly well-known, the "Missa Brevis in g minor" BWV 235 of J.S. Bach is surprisingly unknown. This half-hour long setting of the Kyrie and Gloria of the Mass contains music of great depth and beauty, belying its brevity. Scored for choir, soloists, strings, and oboes, this is a rare opportunity to hear Bach on a more intimate level than the Great Mass in b minor.
This concert will also feature Bach's Brandenburg Concerto No. 5 in D major, BWV 1050.
An ambitious concert like this is expensive. We will be bringing in twenty-five Baroque specialists from throughout Oregon and the United States to accompany the Rep Singers' chorus. Your generosity makes this kind of musical excellence possible.
We invite you to sponsor one or more of these brilliant musicians. Sponsorships are $300 for each instrumentalist and $500 for the Concert Master and each soloist. All sponsors will be recognized in the Baroque Majesty program.
We are so very grateful for your generosity and continued support of Southern Oregon Repertory Singers!
Order Tickets Now
Sponsor a performer