Commissioned Works
Repertory Singers' continued strong commitment to commissioning new choral music has been supported with fund raising efforts by its Board of Directors and by the gracious support of our donors. In a move unprecedented for an organization of its size, the Repertory Singers contracted with Craig Kingsbury in 2000 to compose up to four new choral pieces a year for five years. The group commissioned new works by Martha Sullivan, Todd Barton and by Bryan Johanson, who composed a new piece premiered at our Songs of Shakespeare concert in July, 2006.  Most recently staff accompanist, Jodi French has composed music for as many as two of the concerts each season and her pieces always rank among the audiences favorite moments.
All three composers are among the best in today's world of contemporary music.
The Southern Oregon Repertory Singers are proud to be counted among the few thriving choral organizations who has had a Composer-In-Residence. Craig Kingsbury is composing beautiful choral music.
Craig Kingsbury earned his degree in music composition at the University of Southern California. He worked for a number of years in Los Angeles as a singer, choral conductor, and arranger, and spent two years in Europe singing oratorio and opera. He now resides in Portland, Oregon, where he arranges music and produces recordings for a publisher of liturgical music.
A Mind of Winter, A Song for Midsummer's Eve, Ave Maria, Come to Me in the Silence, Hey, Ho, the Wind and the Rain, It Was a Lover and His Lass, O Mistress Mine, There is no Rose, Tous Mes Pensees, The "L" Word, The O Antiphons, Three Hebridean Folk Songs, The Bens of Jura, Lochbroom Love Song, Land of Heart's Desire, Three Songs from Conciones de Luna, Murio al Amanecer, La Tarde Canta, La Luna Asoma.
Martha Sullivan composes music mostly for the human voice; her work has been praised as "vibrant" and "a singer's favorite."  Many prominent American choral groups have commissioned pieces from her, including the Dale Warland Singers, the Gregg Smith Singers, and Seattle's The Esoterics. Her work appears on recordings by Chicago A Cappella, mezzo-soprano Virginia Dupuy, and The Esoterics. Both G. Schirmer and Laurendale Publishing have published her music. Sullivan was one of three winners of the 2009 Sorel Medallion competition for women composers, and she won the Dale Warland Singers' Choral Ventures competition in its final year (2003).
Notes on her commission for SORS:  I chose texts that refer to music or to singing, because I believe choirs should have a chance to celebrate what they do at the very moment they are doing it.
O! How Thy Worth with Manners May I Sing begins the set with a simple two-voice texture of men¹s voices that gradually becomes an undulating accompaniment to the women's praise of the beloved. The form of the text determined the shape of the music, because I strove to adhere to a rule the composer Ned Rorem has posed, namely, that the composer should not alter the original text to suit his or her own musical agendas.
Who Is Silvia? This very famous text is a rustic song of praise from Two Gentlemen of Verona. I chose an asymmetrical meter, 7/8, to lend the music some swing and direction.
And Bring Your Music Forth uses the famous text from Merchant of Venicethat Ralph Vaughan Williams used for his Serenade to Music. I set it with two contrasting textures: there is a simple, hymn-like texture of chords within which the voices move together, and often in octaves, so as to sound rich like an organ; there is also a reprise of the undulating texture from O! How Thy Worth with Manners May I Sing, to give a sense of unity to the set as something more than just three separate songs.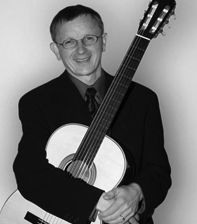 Bryan Johanson has performed, recorded and published works internationally. Johanson's works have won major awards from the St. Paul Chamber Orchestra, Aspen Music Festival and School, The John F. Kennedy Center for the Performing Arts, UCLA and The Esztergom International Guitar Festival. Johanson studied composition with Charles Jones and Pulitzer Prize-winning composer William Bolcom.
Johanson is a prominent guitarist and recording artist who has studied with the likes of Christopher Parkening, Alirio Diaz, and Michael Lorimer. He has performed with orchestras, chamber music groups, choirs, and in solo recitals throughout the United States and Canada.
Johanson is a Professor of Music at Portland State University, where he founded PSU's successful guitar studies program and the Guitar Recital Series in 1978. In 1991 he established the popular Portland Guitar Festival, which he organizes annually.
Todd Barton is the Resident Composer and Music Director for the Oregon Shakespeare Festival. He is also the Director of Composition Studies for the Music Department at Southern Oregon University. Todd is also a member of the multimedia performance art ensemble, sonoluminescence.
His compositions have been performed by the KRONOS Quartet, Oregon Symphony Orchestra, San Jose Chamber Orchestra, Southern Oregon Repertory Singers, the Shasta Taiko, and the Rogue Valley Symphony to name a few.
Barton has received numerous awards for his theater music including the ASCAP Award for Popular Music, Dramalogue Critics Award, and the San Francisco Bay Area Theatre Critics Circle Award. He recently received a Jeff Award Nomination in Chicago for his original score to The Oedipus Complex.
His music has been heard on NPR's Morning Edition, Westcoast Live, and the Curve of Wonder. Todd is well known for his "Theatre Music" and has lectured for the Smithsonian Institute with regard to his recent composition
We have been fortunate to be able to request from Todd, commissioned works based on the text of Shakespeare for our Songs of Shakespeare concert.
What Should We Speak?
Moonlight Becomes