"Breathtakenly beautiful! This performance compares with any of the best worldwide."
"The music inspires reflection. The ancient musical instruments are fascinating. The singers are world class. The conductor is superb and cares for the audience and educates us in the most delightful way."
"It is wonderful to be able to enjoy this high level of choral music in the Rogue Valley. As a choral singer for many years, I truly appreciate the quality of the Repertory Singers."
"I love the Repertory Singers and the selections of Paul French. They touch my heart and soul and fill me with joy and peace."
"The pre-concert lecture and chorus are always excellent, thrilling and spiritually uplifting in my life."
"I am happy and proud to be a donor."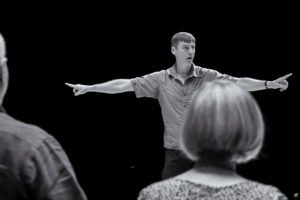 "Breathtakingly beautiful!  This performance compares with any of the best worldwide."
"Exquisite sound-chorus keeps getting better and better.  Very moving."
"Incredibly rich and perfectly performed music.  Love the enthusiasm of Dr. French and the great voices he finds."
"Amazing performance of superb music. Nowhere else puts on this level and quality of performance anywhere in Southern Oregon."  Love it!"
"Thank you for the soul-drenching magnificence!"
"I'm brand new to choral music.  I love it!  I'll be back next year as a subscriber."
"I rarely have the opportunity to attend such great music so well performed."
"Finest music in our blessed valley-conducting, music selection, musicians!"
"Repertory Singers bring such high quality and inspiration to our region!  As a European, this is one of my prime sources of real culture."
"The music inspires reflection. The ancient musical instruments are fascinating.  The singers are world class.  The conductor is superb and cares for the audience and educates us in the most delightful way."
"Everything Rep Singers does is wonderful!  I have never been disappointed."
"Best choral performance in the West."
"I am happy and proud to be a donor."
"It is wonderful to be able to enjoy this high level of choral music in the Rogue Valley.  As a choral singer for many years, I truly appreciate the quality of the Repertory Singers."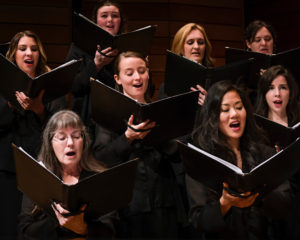 "Made my soul soar."
"Listening to today's concert makes my ears happy.  Your tuning is wonderful.  The music selection is wonderful and you are so polished you glow!"
"The pre-concert lecture and chorus are always excellent, thrilling and spiritually uplifting in my life."
"I love the Repertory Singers and the selections of Paul French.  They touch my heart and soul and fill me with joy and peace."
"I delayed writing, hoping to find the right words, but have decided that there are none. Glorious. Transcendent. Uplifting. None are adequate to express the impact Sunday's performance had on me, an impact that is ongoing. Thank you is also inadequate, but I must say it with all my heart. THANK YOU!" – A long-time patron
"The evening was a diverse and stimulating showcase that cut a wide swath through various periods and styles. It has certainly whet our appetite for what Dr. French and the Southern Oregon Repertory Singers will have for us next. In the meantime, Rogue Valley music connoisseurs can rest assured that their favorite choral group remains at the top of their game." – Jeffrey Gillespie, Ashland Daily Tidings
"Repertory Singers' Ancient Voices concert was one of the most beautiful and inspiring concerts I have seen in a long time. Beautifully sung, beautifully directed, and the choice of composers, especially MacMillan and Tallis, was splendid. I have never heard anything in person like the motet for 40 voices! What a great experience!" –
Scott Calamar, AshlandLiveMusic.com and music editor for Sneak Preview
Audience Feedback after "A Wisp of Beauty" concert in February 2017
I was edified by Mr. Wight's pre-concert lecture; soul-cleansed by the beauty of the pieces performed; impressed with the high quality and technical competence of the singers; charmed and delighted by the musicology and warmth of Dr. French; and enjoyed Mrs. French's performance. Really enjoyed it all.
Beautiful music by a gifted group of musicians. We are so lucky to have Rep Singers.
My heart soared. I was deeply moved.
I wept in a few numbers. Great variety and choices.
I love being exposed to different musicians and cultures, the mix of instruments (unusual), voices in chorus and solo – always an adventure.
The variety of the concerts is always fascinating. What Paul has the singers do with voices is amazing.
This is the best choral group in the valley. They feed my soul. Love the variety of music – always wonderful.
I love the variety, novelty of the selections, Paul's enlightening remarks and buoyant personality, and Jodi's original composition.
Glorious selection. Heart filling and inspiring, centering and filled with love.
It has opened doors to the world and to our mind. We are thrilled by the highest levels of musicianship throughout.
It opened our hearts to different beautiful music. Stirs the soul.
Every time I go to the show, I always leave happy.