Our Ensemble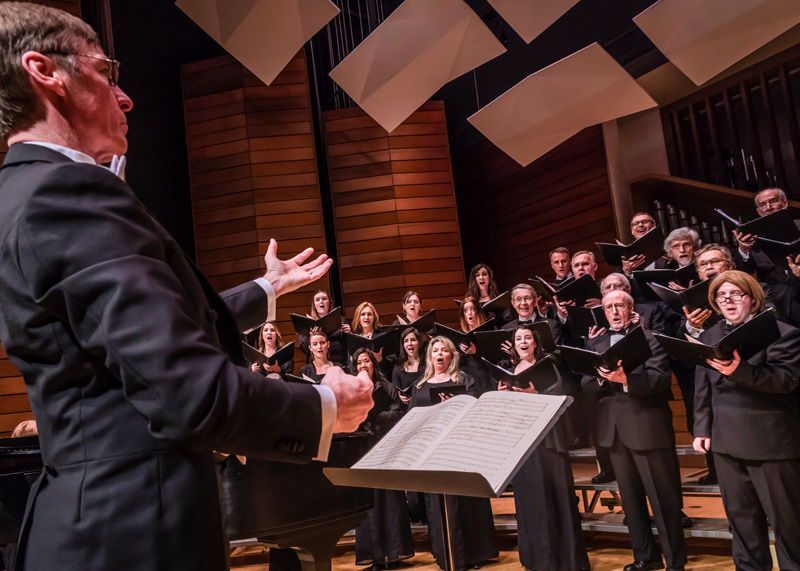 The 60-voice Repertory Singers, following their highly acclaimed performances of Haydn's "Creation," now entering their 34th season of bringing choral excellence to the Rogue Valley. Under the direction of Dr. Paul French, Director of Choral Studies at Southern Oregon University, the semi-professional ensemble captivates audiences by presenting the best of classical choral literature from around the world throughout the ages, as well as newly composed works by world-renowned composers, such as Gabriel Jackson, Eric Whitacre, and Ēriks Ešenvalds. Repertory Singers have also had the honor to premiere new works by Oregon's own Jodi French and Craig Kingsbury.
The mission of Repertory Singers is to promote the performance, development, and appreciation of high-quality choral music. They offer local and regional musicians– including professionals and music educators–access to a wide variety of repertoire, while providing cultural enrichment to the Southern Oregon region through presentation of a series of unique concerts. The Repertory Singers Musical Outreach Program delivers inspiration and insight into the world of professional classical musicians to area high schools.
Repertory Singers proudly present at least one choral masterwork every year in their season. Other recent masterworks include Fauré's "Requiem;" Bach's "St. Matthew Passion" and "Mass in B Minor;" Haydn's "Creation;" and Handel's "Messiah" performed with the Rogue Valley Symphony. Repertory Singers have released four CDs: In Time of Softest Snow, On the Trail of Beauty, The Heart's Reflection, and First Light.
Core Singer*
Young Artist**
Sopranos

Altos

Tenors

Basses

Suzanne Barnes
Gayle Bate
Katie Boehnlein*
Dara Cantrell
Jeffri Carrington*
Cheri Elson
Amanda Gerig
Emily Jeffs
Melissa Johnson
Teresa Jordan
Lindsay Kuzmitz*
Danika Locey*
Jennifer Matsuura*
Sage Meadows
Erin Morlan*
Rebecca Pinnock
Sonya Prislac*
Muriel Sadleir-Hart**
Cynthia Scherr
Leanne Strom
Kendra Taylor
Molly Williams**
Ann Bass
Luna Bitzer
Michaela Brynn*
Anita Caster
Shelly Cox-Thornhill*
Sharon Dady
Gracie Ewert**
Holly Foster
Susan Franks
Renee Hanna
Laurie Anne Hunter*
Tami Marston
Amy Merwin
Linda Morris
Carrie Mock
Clancy Rone
Julia Sommer
Ginny Walker
Miriam Weissberg
Sunrose Winslow
Donna Woolsey
Nicholas Bate
Aaron Dady
Ralph Dady
Roger Graves
Ron Hart
Tom Hearon
Nic Kinzie
Phil Koenig*
Zachary Marshall*
Art Mills
Daniel Munoz
Chris Phillips*
Tom Prislac*
Michael Sorensen*
John Stadelman
Tom Walker
Hal Wing
Ken Depp*
Dale Engle
Josh Ewert*
Donnelly Fenn
Dan Fowler
Ed Houck
Paul Ievins
Karl Iverson
Don Matthews*
Michael Morris*
Russ Otte
Bill Powell
Eric Smith*
Isaiah Spratt**
Ron Strom
Nick Tennant*
Brian Tingle
Randall Walker
Craig Williams
Read some Kudos